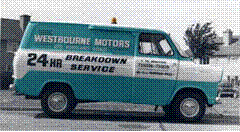 In between wine, women and song there is always time to build race cars so join us as we step by step rekindle two examples of classic period engineering.
Our good friend Pete Dorlin insisted it would be a good idea, classic car racing but with a level playing field and control—just what we love. Pete didn't think to mention just how much welding was required, we are sure less steel went into the Ark Royal.
Thank Heavens for
 
Online auctioning was never around in the A35's hay day, but that doesn't stop us finding two bargains with help of EBAY. The first a barn find in Yeovil that has been unloved for 29 years—we can rescue her we tell ourselves, should we go and look, hell no, that's part of the fun and anyway the auction finishes in 3 hours. We're excited, potentially our first Austin, we have to have it …. SOLD we get it and within three hours it collected and on route to Westbourne HQ (it helps to have a fleet of recovery vehicles) Back at base it doesn't look too bad in Palm Green with a green interior although a little faded.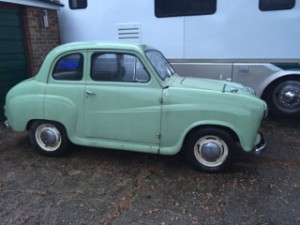 OK we have the bug now lets see what we can find. The regs say you can use an A30 so lets find one of those. Again we scour EBAY and find one to keep and eye on in Bristol. We have a site there so it feels local even though its 180 miles away. Its owned by a doctor and in daily use, must be a straight car, surely? We win the auction and bring it back to Sussex for a closer inspection. Looks good, we take it for a test drive .. one of the most scary things ever you dare not touch the brakes above 30 mph or you risk veering into the opposite carriageway, who agreed to abolish the MOT for older cars? Never mind,  all of that will be renewed and light grey looks quite cute.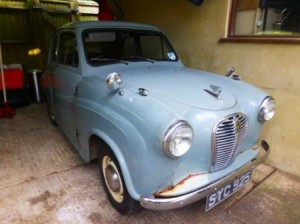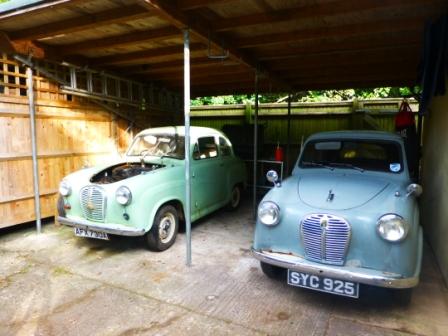 Team Manager Richard Colburn has landed the job of dismantling and preparing for rebuild—after all he's the only one with spanners old enough. James and Ben are roped in—you cant drive it, if you don't understand it! Well at least the moto means many hands make light work, so we all set about dismantling the cars.
The A35 seems more rusty with floor pans and battery tray badly roted, but the A30 looks better until you look closely. Pop rivets, bits of tin and lots of filler disguise the rust and the vagaries of time, never mind we love a challenge and anyway we have to make a new floor and tunnel to accommodate the new transmission.
Piece by piece they come apart, wonderful, simple period engineering—a joy to work on.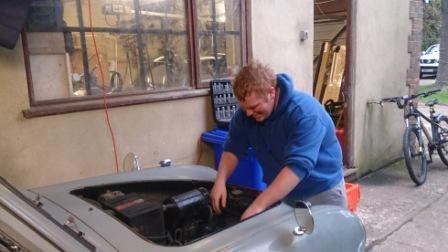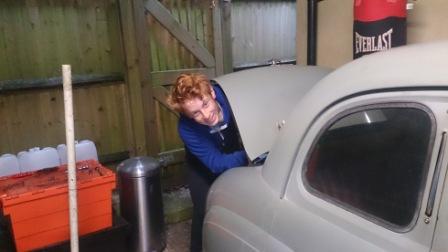 Now they are just bare shells we have the challenge of loading them onto the trailer, surely we can get two on, they are only small. Who put the jockey wheel there? We only need another foot, they will go on whatever it takes. Success! They fit—just.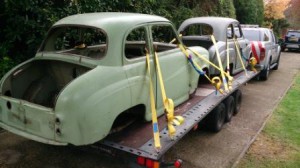 We take them to Ribble Technology in Preston who do a fantastic job at a good price, so back they come and the fun really starts.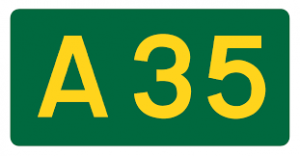 It's the A35 first, lets get one under way, now it's stripped you can see the effects of time and the amount of work required—it will be worth it we tell ourselves, who needs weekends off anyway.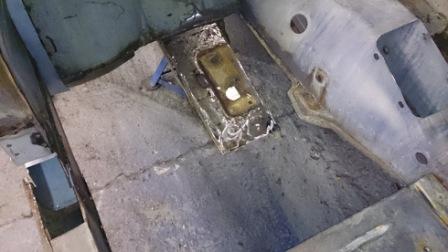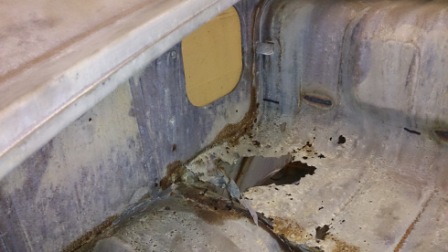 Both the front floor pans have suffered over the years so the only way is to replace them, important we think as the roll cage feet need good support.
The battery has leaked over time and reduced our bulkhead to resemble a sieve. But it didn't stop there, the A post and scuttle were attacked too.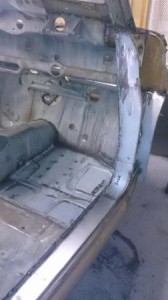 We opt to go all out on the drivers side, cutting out the A post, floor pans and inner and outer sill. But its worth it and the result strength and safety.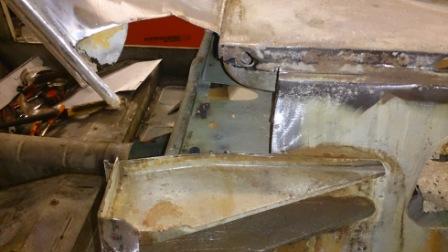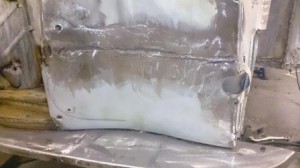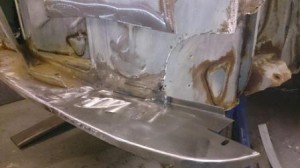 The front valance area and front panels are common dirt traps allowing moisture to dissolve the structure over time, but the result looks good.
Rear spring hangers are non existent so next we set about the job of replacing these and the boot floor. Regulations mean that the spare wheel well have to be removed to accommodate the exhaust system, lucky really as there was not much boot floor supporting it!
Five separate panels make up this area.
With a long Christmas weekend looming a chance to get back on target.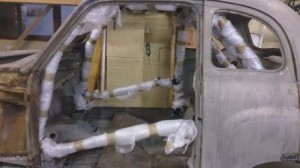 Dummy fit to align the feet goes well.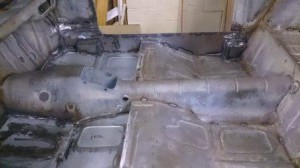 Plenty of work carried out here with safety in mind.
New boot floor and spring hangers both sides
It's been a hard weekend but worth it, welding done, roll cage feet in next job paint and prep!
Now the messy bit, we just need tidy up the welding and get the bare metal in etch primer before it goes off to our body shop so that Tom can work his magic.
We have chosen Surf blue as the colour to represent our team which is a close shade to the one used on the Companies early breakdown vehicles seen at the top of the page.
Painting starts in mid January, we cant wait to publish the results.
NOW MOVING ONTO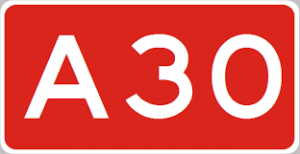 Now you may remember earlier in this article that the A30 was happily driving round Bristol driven by a doctor. Current MOT regulations mean that a car of this age is exempt from the annual test, but you have to say looking at its condition the government's idea that all enthusiasts will look after old cars is somewhat flawed!
The floor pans and other structural areas are built of rivets, body filler and a generous helping of under seal, certainly some work to do here.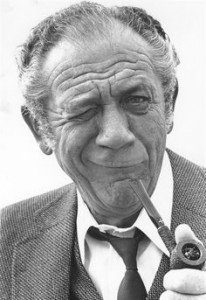 Would you buy a car from this man
 Engine arrival
Excitement! Now we really are believing we will be ready for the March 11th Goodwood deadline. Here they are
The guys at Classic & Modern Engine Services (CMES) give us a call to say both are ready, so we hot foot it up to Bracknell to pick them up.
The place is like A Series heaven with fantastic facilities, thanks to Toby for showing us round.
The colour
After much debate we choose the original Westbourne Motors colour scheme from the late 1960's when the Company was first found by John and Mac (see main Westbourne site westbournemotors.co.uk). The colours are SURF blue and Old English White. We wait with intrepidation to see the results and hope you agree the result is stunning.
The build
Where do we start? We have lots of boxes courtesy of Daryl Davies at Motobuild, lets get to work.
We did all the hard work with the roll cage before painting the car so fitting it is straightforward, we just have to be careful of the paint.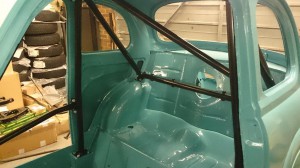 The cars are fitted with a new pedal box assembly that utilises traditional style Mini brake and clutch master cylinders. This is one of the most fiddly jobs on the car as everything has to line up to miss the steering column.
With the steering box and steering idler fitted we can move onto the front suspension, everything has to be meticulously cleaned and painted and reassembled with new components.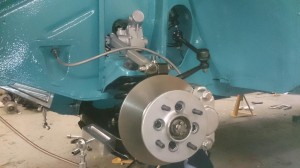 The front roll bar conversion fits well and hopefully will make it handle as good as it looks.
Next onto the fuel system, again the Academy kit provides the tank so its simply a matter of fitting and running the fuel lines and filter.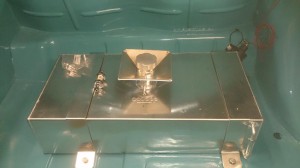 We entrust our 'expert' wiring man Oleg to do the time consuming job of re wiring the car. Getting this right pays dividends with not just appearance but most importantly reliability.
The engine … will it fit
When you build a racing car, one of the most fulfilling times is when the engine is fitted for the first time, its the heart of the engine and takes the project from a shell to a car. This time is relatively simple, we are not fitting an engine from a completely different application, just another trusty A series with more cc's than the original.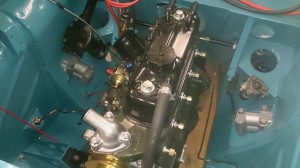 Straight in with the gearbox, everything lines up and is bolted in place. That's the simple bit now we have to plumb it in. With new gauges, warning lights and sensors to protect the engine and give the driver better information all this takes time, but the second car should be far quicker.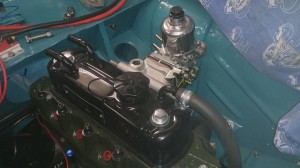 Carburettor and manifold first then all the other ancillaries. We choose to convert the cars to run with an alternator rather than rely on a dynamo.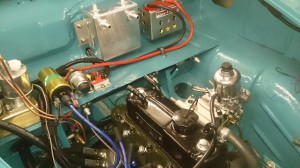 A remote oil filter is used in conjunction with a 13 row oil cooler and the radiator is a high performance aluminium version.
Whilst the engine bay nears completion the interior and dash are refitted ready for start up.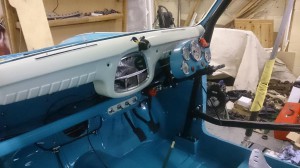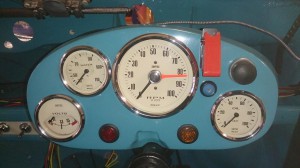 The final hurdle
The last parts of any build always take longer than you hope, assembling the door, fitting the windows, re wiring the car, all painstakingly slow but essential for reliability.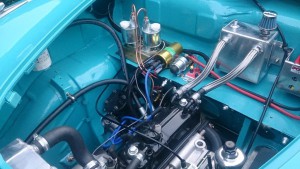 Breather pipe now all installed and then the fan prior to fitting the grille and air intake
Almost done now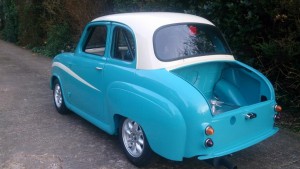 With wheels added we can check ride height and geometry.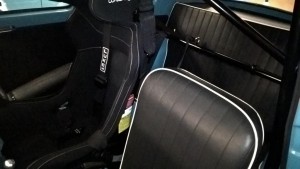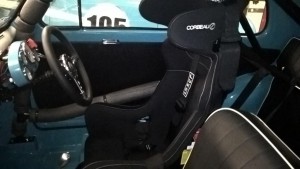 Attention to detail is everything and the black trim with cream piping complements the race seat, chosen for the extra wrap around protection.
Finally the two are done, four months of long days and nights and countless burns, cuts and bruises but worth every one.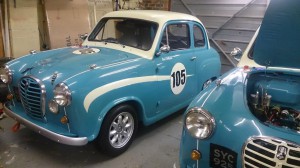 And this is what they look like in a Goodwood garage – their natural habitat, thank you for reading – FIRST RACE BRANDS HATCH APRIL 10 TH 2016 – hope you can join us