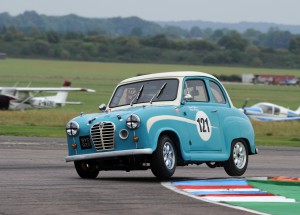 Academy cars built to win – Since the series inception Westbourne built cars have been the ones to be beat with the team taking either pole position or Academy class win at every event in 2016. Three of the top  four qualifying cars at the Goodwood Revival were from the Westbourne stable.
Our cars are built to win races and we can offer a complete range of services from simple maintenance and race set up of your own car to ground up new builds in either A30 or A35 form.
We have cars available now ready to restore and build to our race wining format, offering step by step photographic records of your new car being built in our workshops in the colour of your choice. Cars are delivered meeting the minimum weight  limit and with personalised options such as interiors, wheels colours, race seating and other ancillary items ready to race from £31,995.00 plus vat.
Alternatively we always have a stock of ready built cars from £25,000 plus vat. Join the series that everyone is talking about in 2017 and book your place on the grid at the Silverstone Classic. For more details or further advice contact Richard Colburn – richard@westbournemotors.co.uk – 07977 470 546.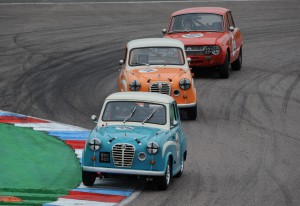 So why the A35?
Over and above its quintessential cheeky character, the Austin A35 is readily available to buy in the classic car marketplace.  Mechanically the A35 is tried and tested, simple yet effective. Properly thought through, a race version can not only be reliable, it will provide all the elements of 'proper' historic racing: Iconic looks, sideways handling and 'seat of your pants' thrills! Most importantly, the HRDC Academy specification has been specifically designed, not only to be reliable and competitive, but fundamentally – to be safe. This carefully thought through package therefore offers a rewarding, truly historic driving experience; but not at any cost.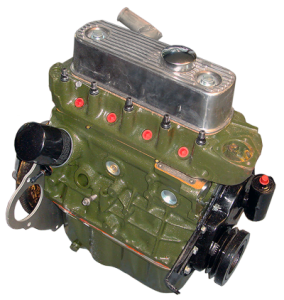 So why Westbourne?
Expertise in any one make formula comes down to two key elements, car preparation and driver coaching— all the money in the world is no substitute for a talented driver in a controlled one make formula.  So firstly we will provide a car that is    prepared without compromise to the specification. Reliability is essential as is the set up to get the best from the car at each of the championship rounds. The team have previously won four one make championships, including both Junior Saloon cars and Michelin Clio in 2015.  Then the really important bit— the driver, our team's logo includes the words 'Race Driver Development' and that's exactly what we do—develop the driver to become a race winner, not by chance but by expert coaching and analysis.  Our multiple race winning coaches attend all race weekends and test days to support and develop our drivers.
Oh and the social side …. Ding Dong! 
We never forget that motor racing is a sport and weekends are there to enjoy, for drivers, families, friends and sponsors. Our team legendary evening culinary experiences are the envy of the paddock and give a great opportunity for team to let their hair down once in a while. Whether your there just to enjoy the evening or entertaining important sponsors everybody loves a Westbourne party night.
To read about our progress in getting race ready read our page here