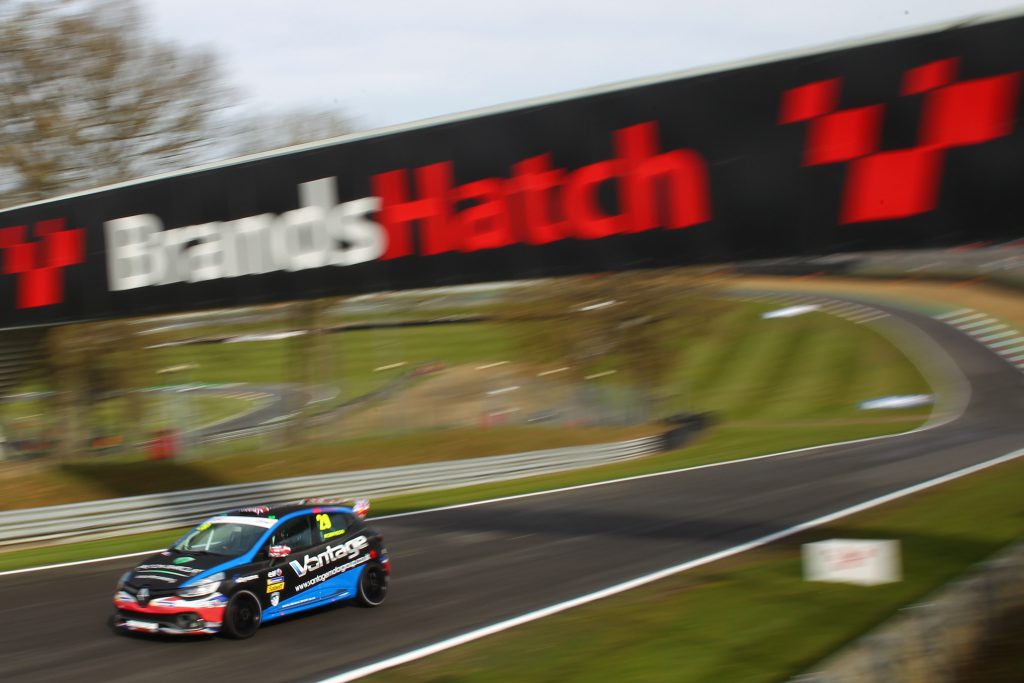 Worthing-based outfit make promising start to Renault UK Clio Cup season at Brands Hatch.
Newcomer Finlay Robinson takes maiden Graduates Cup win, with his three team-mates all amongst the points.
Championship heads next to Donington Park over the weekend of 27-28 April.
Westbourne Motorsport made a promising start to their Renault UK Clio Cup campaign at Brands Hatch last weekend [6th-7th April], with all four drivers amongst the points in an ultra-competitive season-opener.
Last season proved to be a vintage year for the title-contending outfit, narrowly missing out on top spot with James Dorlin and now-Joint Team Principal James Colburn despite racking up six race victories, ten podiums and three pole positions besides.
Fast forward six months and the ingredients are all in place for a repeat success, with promising newcomers to the team Finlay Robinson and Aaron Thompson joining returnees Ben Colburn and Anton Spires.
Qualifying underlined that potential, with Colburn leading Thompson, Spires and Robinson in positions sixth through tenth on the grid for the season-opener.
Thompson would head the Worthing-based outfit's charge in the opening race, claiming sixth ahead of Vantage Motor Group-backed racer Robinson, with Colburn ninth and Spires an unfortunate retirement with a mechanical problem on the grid.
Spires would not be denied his share of the spoils, however, battling back to sixth in the final race, screened live nationwide on ITV4, with Thompson the other finisher behind in seventh.
A gearbox problem on the grid prevented Robinson from building on his first Graduates Cup silverware in the finale, whilst contact left Colburn an unfortunate casualty at Paddock Hill Bend mid-race.
Regardless though, the team takes the positives forward heading to the next double-header at Donington Park, in Leicestershire, over the weekend of 27-28 April.
Ben Colburn said, "My main feeling after the weekend is frustration, really. We showed good pace in qualifying and it was clear to see how competitive the first race was going to be.
"Unfortunately, we made the wrong call with the wet tyres, using older ones rather than new as the others did, but we win and lose together as a team.
"I made a good start in the final race and was in strong shape, the car felt good enough to make it into the top two, but contact ruled me out. It's disappointing, but it's not worth dwelling on that any further. Onwards and upwards to Donington Park, which will be a lot better and I'm aiming to finish where our pace deserves to be – on the podium!"
Finlay Robinson said, "I'm really pleased with my performance across my first weekend in the Renault UK Clio Cup.
"It was fantastic to finish my first-ever race in the championship in seventh; the track conditions weren't great, but I managed to make a good start and start working my through the pack. It was great to have a battle with two of my team-mates – Aaron Thompson and Ben Colburn – whilst simultaneously defending from others behind.
"Unfortunately there is some disappointment at not being able to build on that in the final race after a gearbox problem. I just lost drive altogether on the grid and that was that. There's no point dwelling on it any longer though, and now the focus turns to the next two rounds at Donington Park.
"I'd like to put on record my thanks to all my sponsors – Vantage Motor Group, Aston Barclay, GardX Protection, Premia Solutions and eDynamix – as well as everyone at Westbourne Motorsport, for such a promising start to the year and all their continued support."
Anton Spires said, "Whilst the weekend didn't go exactly according to plan, we showed some really strong performance and it was fantastic to be back out racing in the Renault UK Clio Cup.
"My thanks to everybody at Westbourne Motorsport for their help, support and hard work, and to my sponsors for helping to make this happen.
"It's not clear whether we'll be back out for the rest of the season yet, but if we can get something sorted, this has definitely been an encouraging foundation to build from."
James Colburn, Joint Team Principal said, "Whilst it hasn't been without it's challenges, I think as a team we can all be encouraged by the performance at Brands Hatch last weekend.
"Everybody has shown in flashes what we're capable of achieving this season, now we need to re-group, put some of the disappointments behind us and get ready to come back stronger at Donington Park."