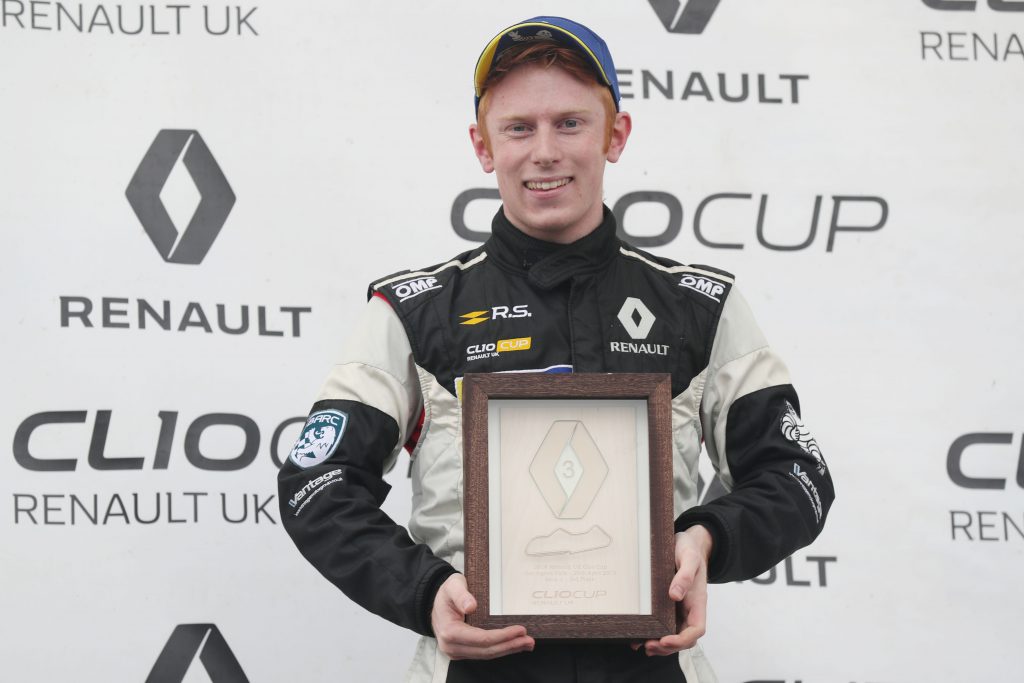 Westbourne Motorsport opened their silverware account for the 2019 Renault UK Clio Cup season and took six solid points finishes across the double-header at Donington Park last weekend [27th-28th April 2019].
A strong qualifying session put all three cars at the sharp end of the UK's most-competitive single-make grid, Aaron Thompson leading the line in fourth with Colburn and Vantage Motor Group-backed racer Finlay Robinson directly behind in fifth and sixth respectively.
The headline from the opening race was a first-ever podium in the series for Colburn, defending well from Jamie Bond and Ethan Hammerton in the closing laps to open the team's silverware account for the year.
Robinson did well to recover from a spin and take seventh at the chequered flag, with Thompson also fighting back from troubles to take ninth.
The trio then underlined their strong start to the season by finishing in positions fourth through sixth in the final race, Colburn leading Thompson and Robinson on this occasion, the latter taking his best finish yet as he continues to get to grips with the fourth-generation RS Clio 220.
The net result of both contests around the 1.8-mile East Midlands circuit is sixth and seventh overall in the standings for Thompson and Colburn, with Robinson a little further back in twelfth.
The championship resumes after a short break at Croft Circuit in mid-June, with Westbourne Motorsport next in action at Brands Hatch in the Michelin Clio Cup Series on 11th-12th May.
Ben Colburn (#5) said, "Today was amazing, with two fantastic results to show for our efforts. I'm so pleased with getting my first podium in the Renault UK Clio Cup; I had to work hard for it and show the rest of the field what I'm capable of.
"I'm looking forward now to the next weekend to build on this and keep pushing as strong as ever. A huge thanks to my sponsors – Terraclean and Vantage Motor Group – for making this possible and to everyone at Westbourne Motorsport for all their continued hard work."
Finlay Robinson (#29) said, "It's been another productive weekend and to finish it with my best-ever result yet in the Renault UK Clio Cup is very encouraging heading into the next event.
"It's been great experience for me to race at the sharp end of the field and I'm sure before long we'll be knocking on the door for some silverware too. I'd like to thank all my sponsors – Vantage Motor Group, Aston Barclay, GardX Protection, Premia Solutions and eDynamix – for all their support and to everybody at Westbourne Motorsport."
Aaron Thompson (#41) said, "We've made good progress this weekend at Donington Park and it's brought a positive set of results for the team – it's just reward for all their hard work and continued support.
"I'm confident we'll be fighting for podiums before long – our pace has been up there with those at the sharp end of the field and I know when the opportunity comes my way, I'm more than capable of bringing the result home.
"Thanks to all my sponsors for their continued support. We'll regroup and go again at Croft!"