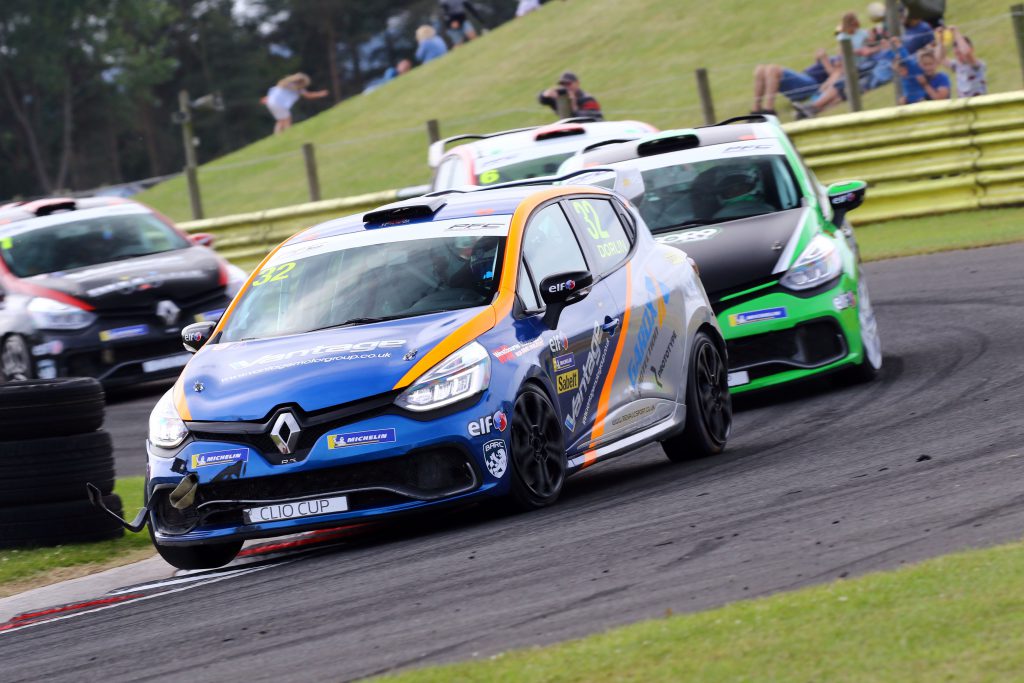 Westbourne Motorsport were unfortunate not to add further to their tally of silverware on a difficult weekend of Renault UK Clio Cup action at Croft Circuit [23-24 June].
Past success at the 2.1 mile Yorkshire circuit and a recent run of six straight podiums in the hands of BRDC Rising Star James Dorlin – including five wins – gave the team an optimistic mindset for the journey north.
Qualifying proved a frustrating affair, however, with Dorlin leading the Worthing-based outfit's charge from the second row in third after encountering traffic exiting the pit lane on his final flying run, with team-mate Colburn a little further back in ninth.
An opportunistic lunge from behind at the Hairpin ruined Dorlin's charge in the opening contest, with Colburn similarly bumped back to 11th at the chequered flag, though with dropped scores to factor into the championship hunt, the key was to keep banking points.
In front of a capacity crowd in Yorkshire and live ITV Sport television coverage, the final race of the weekend again became a case of damage limitation.
Dorlin was forced into an early retirement after contact from other competitors punctured the right-rear tyre and damaged the rear end of the #32, whilst #JC7 kept touch with the leaders throughout and came home eighth, scoring more invaluable points in the Teams' championship.
The highly-competitive single make category now takes a six-week summer break before resuming at Snetterton, in Norfolk, over the weekend of 28-29 July.
James Colburn (#7) said, "It's been a frustrating weekend for the team, but this is just part of motorsport at times. It's still positive to take two solid top-ten finishes away from the weekend, and we'll definitely be back even stronger next time out at Snetterton."
"A massive thanks to the team for all their hard work and to our sponsors for their support. We're all working as hard as possible to repay them with some more silverware once the action starts again in six weeks."
James Dorlin (#32) said, "I'm not concerned about how this weekend has panned out at all. We were unfortunate, and that happens to the best of us at times, but winning this championship was never going to be simple.
"Retiring from the second race after contact makes the dropped score situation simple for us, and even helps in some respects as one of my title rivals hasn't had a non-score yet.
"We now have six weeks to take stock, relax a little bit and then come back ready to go again at Snetterton. Thanks again to Westbourne Motorsport for setting the car up perfectly and to my sponsors for making this all happen – we'll get them next time!