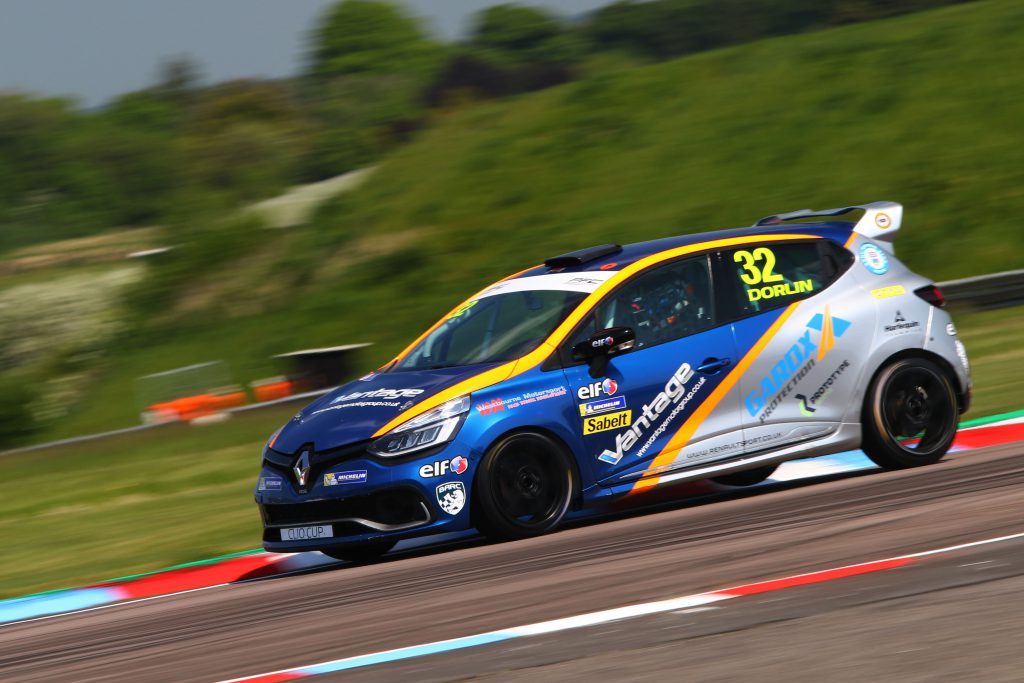 Westbourne Motorsport make the journey north to Oulton Park this weekend [09-10 June] aiming to preserve their advantage in the Renault UK Clio Cup title race.
Another brace of victories for BRDC Rising Star James Dorlin hands the Vantage Motor Group and GardX Protection-supported racer a two-point lead, on a circuit which holds past glories for both drivers.
Team-mate James Colburn – who also runs with the backing of Terraclean – claimed his first victory since making a full-time return to the category in 2017 around the challenging 2.2 mile circuit, which is typified by high-speed action and several changes in gradient across each lap.
Dorlin also has two victories, a pole position and a brace of fastest laps to his name at the Cheshire venue from his 2016 Michelin Clio Cup Series title-winning campaign.
The team more recently has continued to enjoy success in historic racing, with Colburn victorious at Brands Hatch last weekend behind the wheel of a 1959 Austin A40 Speedwell in the HRDC Touring Greats.
Current Michelin Clio Cup Series racer and younger sibling Ben was also amongst the silverware, steering a 1957 Lenham Sprite GT to second place in the HRDC Allstars category.
Turning the focus back to Oulton Park, the weekend gets underway on Saturday [9th June] with qualifying and the opening race at 11:00 and 16:00 respectively, with the final race – screened live on ITV Sport's free-to-air television coverage nationwide – set to start at 13:30 the following day.
James Colburn (#7) said, "Thruxton was another fantastic weekend for the team with James [Dorlin] taking another double win. For me, it could have been a lot better, with problems during qualifying that put us on the back foot for the rest of the weekend.
"Oulton Park is a completely different challenge. We've enjoyed success there in the past but we can't rest on our laurels – concentration is going to be key. This team has never been in stronger shape and we'll look to start strongly in practice and then continue to improve from there."
James Dorlin (#32) said, "We're in the best position so far this campaign as championship leaders, but that doesn't bring any extra pressure and it isn't changing my mind set heading into the weekend at Oulton Park.
"The more race victories we can put on the board whilst the momentum is on our side, the more that'll pay dividends at the business end of the season. The important thing at this stage is to keep a level head, our feet on the ground and approach it as we do every race weekend.
"It's been fantastic to give my sponsors so much TV exposure at the sharp end of the field recently – long may that continue!"