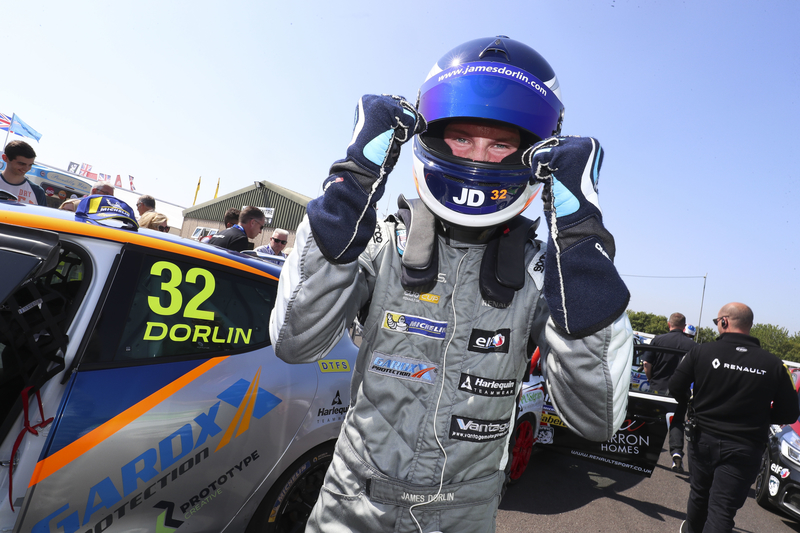 Worthing-based outfit claim double victory at the 2.4 mile Hampshire circuit courtesy of BRDC Rising Star James Dorlin.
Terraclean-backed racer James Colburn adds to consistent points tally after moving forward in both races.
Net result of both races gives Dorlin the overall championship lead heading to the next event at Oulton Park on 09-10 June.
Westbourne Motorsport took another clean sweep of Renault UK Clio Cup victories courtesy of a double from James Dorlin at Thruxton.
The Vantage Motor Group and GardX Protection-backed racer missed out on a second consecutive pole position by a mere 0.069 seconds in qualifying, but made amends by emerging victorious from a thrilling three-way scrap with fellow title contenders Max Coates and Daniel Rowbottom in the opening contest.
Barnsley-based racer Dorlin then made the perfect getaway in the final race – screened live nationwide through ITV Sport's television package – and bested championship stalwart Paul Rivett into Allard.
The BRDC Rising Star then resisted pressure from behind – including a sublime safety car restart – to score a fourth victory in a row and claim the overall championship lead heading to Cheshire in three weeks' time.
Terraclean-supported racer James Colburn is a proven race-winner at the high-speed 2.4 mile Hampshire circuit, with three trips to the winner's circle on his record, and the 2011 championship runner-up did well to limit the damage after an issue in qualifying hampered his weekend.
Colburn's lightning starts have been a theme at each event so far in 2018 and the opening race at Thruxton proved no different, with the 25-year old dispatching the four cars directly ahead on the opening lap alone en route to another top ten finish.
His pace might have earned further rewards in the final race, but a stalled Dan Zelos ahead on the grid forced Colburn into evasive action on the grass and hampered his progress. Nevertheless, the multiple race-winner fought back to claim eighth, and bank more points that could prove pivotal later in the season.
The championship heads next to Oulton Park – the scene of Colburn's first victory since making a full-time return to the category last year – with the momentum in the title fight firmly with the team.
James Colburn (#7) said, "It's been a frustrating weekend and that stemmed from qualifying. We showed again how quick we are from race starts and enjoyed some good battles, and it could have been even better in race two without being forced to avoid the car ahead on the grass.
"Congratulations to the team on another pair of victories and to James – he's been fantastic this weekend and it just proves the potential we have as a group at the moment. Oulton Park has fond memories for me after winning there last year, the aim is to repeat that success again this year and get my championship fight back on track."
James Dorlin (#32) said, "It's been another perfect weekend. We knew we'd be strong here after testing and the aim was always to bring across our form from Donington Park a few weeks ago and translate that into more silverware here.
"It's fantastic to be able to achieve it and I need to put a massive 'thank you' on record to everybody at Westbourne Motorsport for preparing the car to such a high standard, and to all my sponsors who make this entire programme happen.
"Getting four victories in a row is an amazing feeling, but now the focus needs to turn already towards Oulton Park. It's a long season ahead, a lot can still happen yet, and we need to keep banking points whilst the momentum is on our side.
"It's another of my favourite circuits and we've run well there before. The aim has to be fighting at the sharp end once again. We're back on track in this title fight, now we have to stay there."