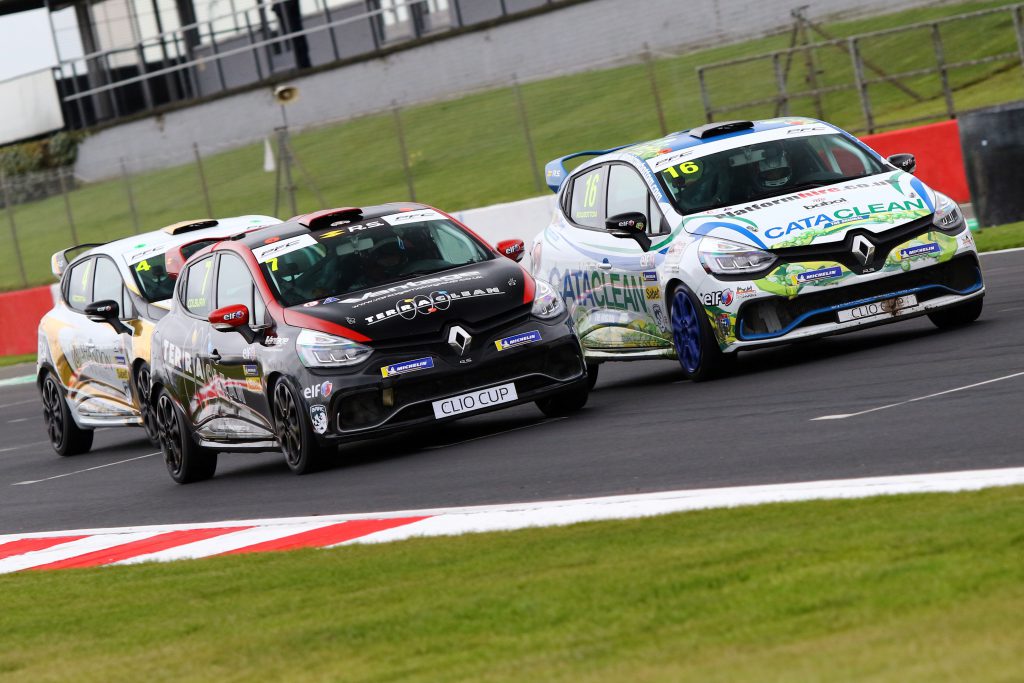 Worthing-based outfit arrive in Hampshire off the back of a double victory at Donington Park three weeks prior.
Both drivers aiming to repeat past success at the high-speed 2.4 mile Thruxton circuit.
Pace at recent test session suggests Westbourne duo will be in the hunt for silverware once again this weekend.
Westbourne Motorsport make the journey to Thruxton this weekend to contest the third meeting of the 2018 Renault UK Clio Cup season, with both drivers aiming to repeat past successes at the high-speed Hampshire circuit.

The Worthing-based outfit enjoyed a strong run at the championship's official test at the same venue prior to the last race meeting at Donington Park, leading many punters and competitors alike to tip both James Colburn and James Dorlin as 'ones to watch' this weekend [19-20 May].
Both have claimed victories at the UK's fastest circuit in the past, with Colburn thrice a winner in addition to Dorlin's maiden victory in the highly-competitive single make series, secured last year after a last-gasp dash to the line against eventual champion Mike Bushell.
Donington finally saw the team's early performances rewarded with a trip to the winner's circle, with Vantage Motor Group and GardX Protection-backed racer Dorlin securing outright pole position and both race victories in the East Midlands, the second the result of a thrilling scrap against fellow rising stars Bradley Burns and Jack McCarthy.
Arguably the team should have taken its first 1-2 finish in the championship, but a harsh penalty for infringing track limits demoted Colburn to fourth in the opener, and an unfortunate spin in the final contest leaves the 2011 championship runner-up, who also benefits from the support of Terraclean and Paint Perfect, twice as motivated to make amends this weekend and take the results his pace, thus far, has merited.
The weekend kicks off with qualifying on Saturday afternoon at 14:10, with both 12-lap races races scheduled for 10:45 and 15:15 on Sunday respectively, the second set to enjoy live television coverage on ITV4 along with the expected capacity audience trackside in Hampshire.
James Colburn (#7 said), "At Thruxton this weekend, we have got to be on maximum attack. With two non-points finishes and only one dropped round this year, we can't afford to lose out on too many points.
"We have won at Thruxton three times before so it's a track that in the past has been a happy hunting ground but we can't take that for granted. I'm going out there with the intention of standing on the top step for both races, and after the pace we showed at the recent test session there is no reason why that can't happen."
James Dorlin (#32) said, "I'm so pumped ahead of this weekend. We have some good momentum behind us now after a great set of results at Donington Park, and of course the aim is to carry that through into Thruxton this weekend.
"It's been a very successful circuit for me in the past, of course, and we were at the sharp end of the timesheets there recently in testing, so everything looks to be in good shape.
"I know Westbourne Motorsport will give me a car to challenge in, as always. There's absolutely nothing stopping us from getting some more victories this weekend – and that's exactly what I'll be going for!
"Thanks again to all my fantastic sponsors who make this possible and get me out on circuit – we'll do you proud again this weekend."