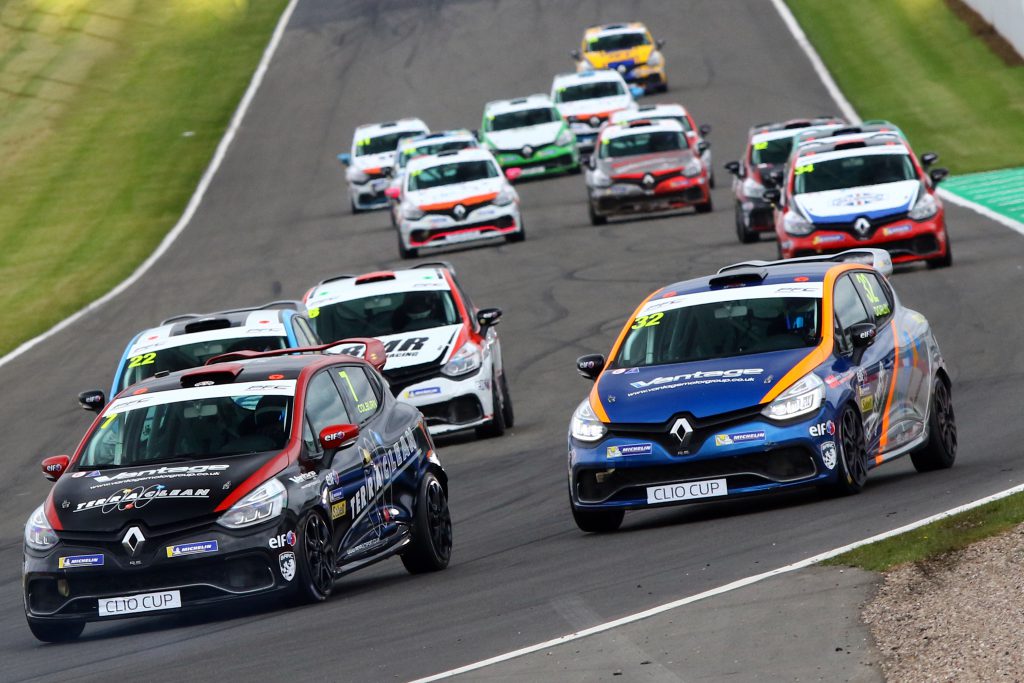 Westbourne Motorsport threw themselves back into the Renault UK Clio Cup title fight with pole position and both victories in the second meeting of the 2018 season at Donington Park.
A positive spell of testing prior to meeting left spirits high, with James Dorlin converting promise into pole position after switching to slick tyres in the dying embers of qualifying.
With team-mate James Colburn enjoying his best qualifying result at the 1.9 mile Leicestershire venue to date, everything was in place for a positive set of team results in front of a capacity crowd and the ITV4 cameras on Sunday.
The opening race started in perfect fashion, with Colburn darting to the outside line after another lightning getaway and seizing the lead of the race, with Dorlin slotting in behind.
Dorlin reclaimed control into Redgate with a bold move and broke clear, with Colburn putting in a sublime defensive display to fend off Dan Rowbottom and Bradley Burns before a penalty for exceeding track limits demoted him to fourth, and robbed the team of a first 1-2 finish in the championship.
BRDC Rising Star Dorlin would not be denied, however, taking the chequered flag some 7.1 seconds clear of the field.
The Worthing-based outfit started the final race of the weekend in a promising position once again, with Dorlin in third and Colburn fifth.
Again Colburn made an exemplary start to lead Dorlin in third and fourth, which quickly became second and third when Burns went wide out of the final chicane.
The two traded places once apiece at the Old Hairpin and last chicane, before Colburn was forced into evasive action under braking into Redgate and off-circuit into the gravel, robbing the 2011 championship runner-up of yet another likely podium finish.
Dorlin took the opportunity to challenge Jack McCarthy for the lead and duly assumed control at the head of the field, fending off the best efforts of the latter and Burns in an excellent defensive display to claim a double victory and take a perfect points score forward to Thruxton next month, despite a dramatic final few laps.
The net result of both races leapfrogs Dorlin into fourth overall in the Drivers' standings, with Colburn eighth. The Teams' Championship makes for pleasant reading, with Westbourne now third after reaching a century of points in the East Midlands.
Thruxton – scene of Dorlin's last-gasp first victory in the championship – is the venue for round three, scheduled for the weekend of 19-20 May.
James Colburn (#7) said, "We had a very positive opening race and I definitely feel hard done by on the decision, but it is what it is.
"We made another strong start in the second race but again it wasn't to be. I went for a pass on McCarthy, he covered the line late into the braking zone after I'd committed and at that stage I was either going to make contact or avoid him – luckily I managed the former.
"It hindered my race a lot more than his, but it's pleasing to have such a strong weekend from a team perspective with two wins for James [Dorlin], and that's moved us right back into the championship frame.
"We go next to Thruxton and I'll be focused, as ever, on taking the maximum number of points possible and closing that gap in the standings. Thanks to the team for a great car this weekend and to all my sponsors for their support."
James Dorlin (#32) said, ""It's been an amazing weekend and to come away with a perfect score is exactly what we needed. The performance has been there, but we haven't quite had the luck so far this year, so to get back on track is fantastic.
"I owe a huge thank you to a lot of people. My sponsors – Vantage Motor Group, GardX Protection, Prototype Creative, DTFS and Harlequin Teamwear – along with everybody at Westbourne Motorsport for preparing the car to such a high standard – it was flawless.
"Now we need to carry this momentum forward to Thruxton. Obviously I have very happy memories of the circuit after taking my first victory there last year and it's one of my favourite tracks. The key now is to stay focused and try and repeat that performance in three weeks' time."