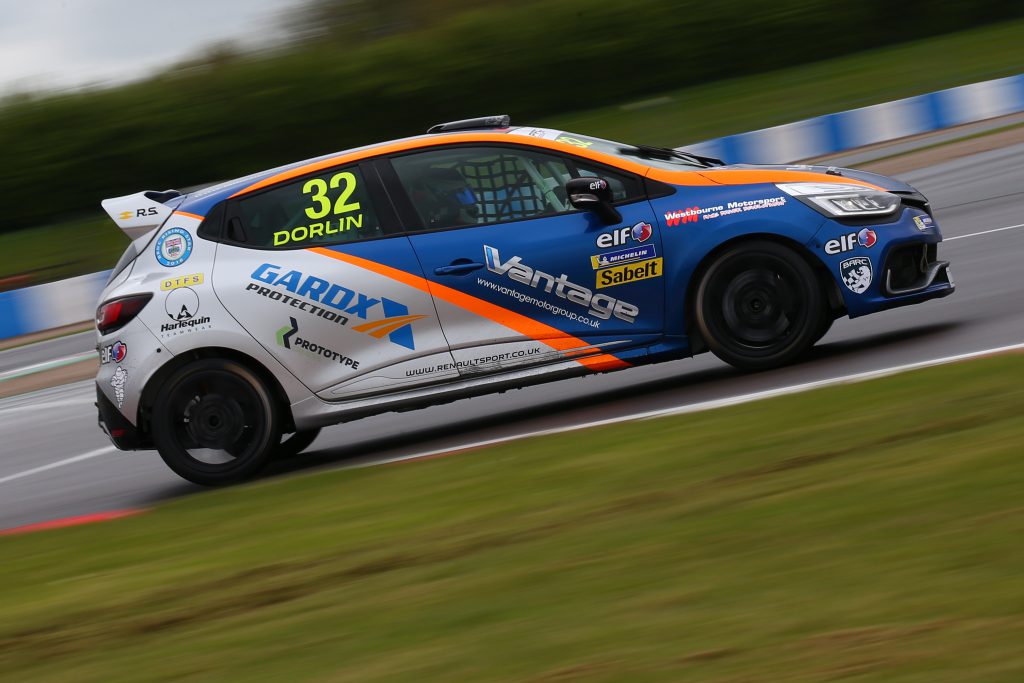 Inspired strategy call gives Worthing-based outfit pole position for the opening Renault UK Clio Cup race at Donington Park.
James Dorlin set to lead the field away, with team-mate James Colburn well-placed in fourth – his best qualifying at Donington yet.
Teams pace during testing rewarded as they look to close in on championship rivals in the standings.
Westbourne Motorsport weathered changeable conditions and made an inspired late strategy call to seize pole position for the opening Renault UK Clio Cup race at Donington Park.
James Dorlin will lead the field away after setting a late effort of 1:21.558 seconds to eclipse nearest rival Jack McCarthy by nearly half a second.
Team-mate James Colburn claimed his best-ever qualifying at the 1.9 mile Leicestershire circuit in fourth, and with the 2011 championship runner-up's prowess for race starts proven at Brands Hatch three weeks ago, the ingredients are in place for a strong team result in Sunday's double header.
Performance is nothing without consistency, and with the pairing in third and fifth respectively for the final race – televised live on ITV4 to thousands of homes around the country – the team's pace in testing has been translated into early-season form.
Widely recognised as the UK's most competitive single-make series, the two races for the UK Clio Cup are scheduled for 10:00 and 15:55 on Sunday [29th April].

James Dorlin (#32) said, "I'm absolutely over the moon with that result, it's put us back at the sharp end of the field where we should be.
"It's exactly the start to the weekend we wanted, but it certainly wasn't easy. My exhaust came loose and that left us in the pit lane for a fair amount of the session, but in a way that gave us nothing to lose.
"I could feel the track drying out, so we made the call to go to slicks and that proved to be the correct choice.
"My mindset heading into tomorrow remains exactly the same. We're very focused, and starting in a good position which we'll be looking to convert into race victories."

James Colburn (#7) said, "I'm really happy with that result. It's my best qualifying at Donington Park to date – we've always held pace in race conditions with the leaders over the years, so on that basis we're very well placed heading into tomorrow.
"We proved we can make strong starts at Brands Hatch three weeks ago, so ideally tomorrow myself and James [Dorlin] can head out of the first corner leading the field, and then we'll move forward from there and take a strong team result."