After seven straight long and tiring weekends of racing, Westbourne Motorsport is into their final race weekend of the season at Donington Park for the last round in the HRDC. Westbourne will be running an array of cars from A35s to a Lenham in the exciting events that are always put on by the HRDC.
In the Allstars race, we have two A35 Academy cars running with Bruce Chapman once again returning after the success he had at Mallory Park. The other A35 will be driven by Ben Colburn who will be testing the car with some new upgrades in order to see if the HRDC can improve the Academy kit for future drivers. We are also running a beautiful 1963 Morris Mini Cooper S driven by our Renault Clio Cup UK ace James Dorlin who is really looking forward to be returning to the historic stage after missing out most of this season. Finally, the Lenham Sprite GT will be back racing again with James Colburn at the helm after a very impressive couple of races after victory in the Weslake Cup at the Goodwood Members Meeting at the beginning of the year and his 3rd place just losing out to a Ford Mustang round Silverstone National in May.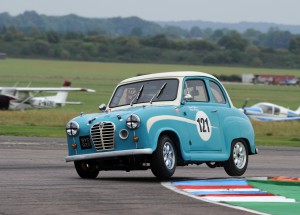 In the Touring Greats race, Westbourne have five cars running, two of those being A35 Academy cars one being driven once again by Bruce Chapman and the other A35 will be driven by Nick Wigley, the Silverstone Classic Director, who returns after his run out in the Silverstone Classic Celebrity Challenge Trophy with a respectable 10th place finish. Also on show will be the Austin A35 Speedwell car that raced at the Goodwood Revival this year with James Colburn and British Touring Car ace Adam Morgan once again pairing up like at Goodwood for the final event of the year! Another A35 Speedwell car will also be running with Chris Pearson and Richard Fores teaming up to take on the rest of the field. Finally, the Austin A40 Speedwell car will be returning to the HRDC field after its perfect start at Castle Combe in July when Ben Colburn and James Colburn came an amazing 5th place overall and 1st in class in their first outing in the car in the COYS Trophy. This time however, Ben Colburn will be joined by James Dorlin who is raring to try his hand at an A40 Speedwell after being already successful in his A35 Academy car and his Mini.
The team look forward to producing some more excellent results to round off what has been a strong season for the team. Everyone will now also be looking forward to a well deserved break from the many race weekends but preparation will be key for the next season with everyone raring to go again.