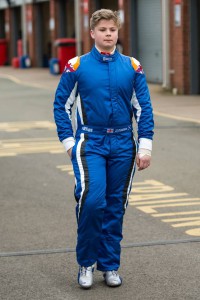 Westbourne Motorsport are pleased to announce that Ronan Pearson will be joining the team to race in the Junior Saloon Car Championship 2017. Following his previous success in the championship in 2016, we are excited to see how he performs during the 2017 season. We are very excited to welcome Ronan to the team and wish him all the best for the season ahead.
For more information, please see the RPR press release below:
RPR are very excited to announce that a deal has been agreed for Ronan to join highly respected Westbourne Motorsport for the 2017 Junior Saloon Car Championship campaign.
Westbourne have a proud record of having won this championship many times over the years through the original SaxMax Championship to its current reformed guise. Their fantastic history of young driver development continues to produce young very talented drivers who have gone on to achieve many podiums and race wins in Clio Cup and similar, including James Colburn, Ant Whorton-Eales and Josh Cook. The latter two moving onto the dizzy heights of British Touring Cars.
Instrumental in this deal coming together was in-house driver coach Ed Pead. Ed who is very highly respected among his peers for his dedication and track record with Junior drivers commented "After showing some strong performances last year I'm really looking forward to working with Ronan to fight for this year's Championship. He has the ability and aggressiveness to be on the podium at each round and with podiums will come race wins, it's going to be an exciting year"
Richard Colburn, Team Principle commented "I am delighted to welcome Ronan to Westbourne. We watched him progress well in 2016 with some good results towards the end of the year. We will be working hard together in pre-season testing to make sure we are ready for the Silverstone opener in March with a simple aim of challenging for regular podium finishes in 2017".
Ronan has been very keen to share his news "I'm delighted and very grateful to have this fantastic opportunity to join Westbourne Motorsport, it's a great platform to continue my development at such a young age. This move has me more motivated than ever and I am very committed to developing in every way I can during 2017 and beyond. Last year was a great first season for me with Andrew Lamont Motorsport and working with good friend, and driver coach, Paul O'Neill. Without them I wouldn't be in the position I find myself in now and I'm very grateful to everyone who helped and supported me during 2016. I'm looking to continue where I left off at the end of last year where I continued to improve on all levels of my driving and race craft. We had more lows than highs last year and the results didn't always reflect our pace and hard work but I achieved the objectives we set out. It's a new environment and I'm very excited but I'm not looking too far ahead, making progress and being at the sharp end are my goals and I can't wait to get started"
Chris Pearson, who manages Ronan's racing activities "I'm over the moon. It's been an interesting few days piecing all this together! Ed and I had spoken on and off but to be honest I never thought we would be in a position to join Westbourne full time. This deal has only been possible due to the support of Richard Colburn and all of Ronan's fantastic sponsors. Barry and Marc at OEM Group have been incredibly supportive and without them we wouldn't be in this position. It is an amazing opportunity and he'll be in great hands. Everyone works incredibly hard behind the scenes to go racing, it's not just a case of rolling a car off a trailer and having a bit of fun so this is a reward for everyone involved"
RPR are also very grateful to everyone at Andrew Lamont Motorsport for their support in 2016 and pleased that they wish to continue to support Ronan any way they can moving forward.