Copyright free images supplied courtesy of Jakob Ebrey Photography
Michelin Clio Cup Series championship images available to download for editorial purposes at www.jakobebrey.com/renault
Full results and timings available at www.tsl-timing.com
•    Privateer Paul Streather claims first Michelin Clio Cup Series victory in Rd3
•    Luke Pinder takes a perfect hat-trick of dominant wins in the Road Series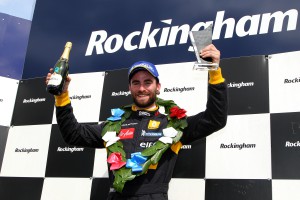 Luke Herbert (Chichester) holds an impressive 22 point lead at the top of the Michelin Clio Cup Race Series standings following the season-opening event at Rockingham over the weekend, 11th/12th April, after taking two wins from three races – and finishing runner-up in the finale.
Second year Race Series competitor Paul Streather (Hinckley) emerged victorious in round three on Sunday afternoon following a superb charge through from sixth on the grid, the result marking the privateer's maiden win in Clio Cup racing. Streather departs Rockingham second in the championship by a single point ahead of double podium finisher Sam Randon (Ashbourne).
In the Road Series, Jade Developments driver Luke Pinder (Shipley) enjoyed a perfect weekend from start to finish. First securing pole position for all three races, the former rally driver was untouchable with a hat-trick of victories and fastest lap in each contest – including a new lap record of 1m40.435s (69.53mph) in round one on Saturday afternoon.
Herbert and Streather celebrate success in Race Series
Although missing out on pole position for round one to Westbourne Motorsport team-mate Randon, Herbert inherited the race lead midway through the first lap when the pole-starter slid wide on fluid at the exit of Pif Paf. Thereafter, Herbert controlled the action at the front to win by four seconds.
Prior to Randon's dramatic disappearance from the lead, the race already started in nail-biting fashion when Streather was pitched into a slide and near-spin at Turn One as the tightly bunched pack headed four abreast through the Oval banking.
While Herbert was long gone after the opening lap, Finesse Motorsport's Andy Jordan (Bridgnorth) impressed with a terrific drive through to second place from sixth on the grid and also took the bonus points for fastest lap.
Brett Lidsey (Dartford) claimed third for 20Ten Racing, usurped from second by Jordan with a couple of laps to go, while RacingforHeroes Academy with FML rookie Ben Davis (Abingdon) sealed the first of three Sport Class wins in fourth overall after a tenacious drive – just edging ahead of 20Ten's Tom Barley (Crayford) on the final lap.
In round two on Sunday morning Westbourne celebrated an excellent one-two finish with Herbert heading home Randon. The team-mates managed to leapfrog pole qualifier Lidsey off the line and as the cars headed for the infield, Herbert managed to edge ahead of Randon to take the lead.
While Herbert initially pulled away, Randon hit back when he got into his stride from lap three and started to close down the leader with Streather closing in too as he made great progress from fifth on the grid.
Passing Randon for second on lap seven, Streather harried Herbert into the closing stages but on the last lap he spun at Deene as he tried to avoid contact. Randon, therefore, took second with Lidsey third and Jordan fourth. Streather recovered to fifth, and set fastest lap, ahead of Barley.
In round three, Streather finally took the win he's craved since entering the Race Series at the start of 2014. Herbert lined-up on pole position and made a great getaway but for second placed starter Jordan the opposite was true after bogging down slightly, enabling Davis and Randon to stream past.
Jordan hit back to recover to second by the time the cars exited Yentwood while, behind, Davis, Randon, Streather and Pete Bennett (Norwich) all ran as one. At the start of lap two, Herbert's lead was over three seconds thanks to the squabbling behind but following a mistake on lap three at Deene, Jordan closed right up and took the lead.
Trading first place with Herbert at mid-distance, Jordan's race ended with bitter disappointment on lap eight when he had to pit with a puncture. That left Randon and Streather to try and prevent Herbert making it three wins and after passing Randon on lap nine, Streather got ahead of Herbert at Deene on the 12th and final lap.
Behind Herbert and Randon, Davis finished in fourth place once again – his third Sport Class win of the weekend – and he was only 0.3 seconds shy of the outright podium. Barley finished in fifth with Bennett, who had a torrid day on Saturday after his engine blew in qualifying, rounded out the top six with a replacement powerplant in his Clio.
Luke Herbert:
"It's a great start to the season, two wins and another podium is fantastic and really good to have a Westbourne one-two with Sam [Randon] in the second race. We're really pleased to be leading the championship, that's what we aimed to do, and hopefully we can carry this on at Thruxton."

Paul Streather:
"The weekend didn't get off to the best of starts, qualifying was tough and in the first race I got turned around at the first corner. I worked so hard to get through to first in race three, it's brilliant to win. The sense of achievement is amazing, I couldn't do this without my friends and family."

Sam Randon: 
"I'm so much happier today than Saturday, it was a shocker to go off on fuel on the track – I'm really happy to have raced to the podium today. Two podiums from three races is great and shows we're in the fight for the championship"
Road Series runner Pinder utterly dominant in season-opener
The entire Rockingham weekend was all about Luke Pinder in the Michelin Clio Cup Road Series, he was never headed at any stage and totally dominated by locking out all three pole positions, setting fastest lap in each race and taking a dream hat-trick of wins.
Jade Developments team-mate Jake Honour (Devizes) wrapped-up three runner-up placings, although his weekend wasn't completely straightforward after tight battles with CGH Imports.com racer Nic Harrison (Burton-on-Trent), Paint Perfect Motorsport's John Creasey (Lincoln) and Go Racing Motorsport's Matt Fincham (Aylesbury).
While Harrison rounded-out the podium in the first two races, Fincham claimed a maiden Road Series rostrum on his first weekend in the category in round three – just reward after a very challenging debut which was compromised by a series of mechanical issues.
Luke Pinder:
"It's been the perfect weekend I suppose, it's what we came to do. We said it would be absolutely amazing if we could do it, three wins, three poles, three fastest laps, and we achieved it – amazing weekend. I think it'll be a good season in the Road Series."

Jake Honour:
"Race three was a lot better than the other two, but Nic Harrison got in front of me so I had to deal with him first and then I did catch Luke [Pinder] a little bit. We've had some consistent results this weekend, I'm happy with three second places, and hopefully we can progress more at Thruxton."

Matt Fincham:
"It's good to be on the podium but it's been real hard work, we've had a lot of problems – even the driveshaft broke on the way out of the workshop so we missed testing! Then the engine went in qualifying, which was the first time I'd driven this car. We came here to do well but, with the problems we had, we've done well – especially as I've been off this week with tonsillitis."
There is now a lengthy break of roughly two months in the Michelin Clio Cup Race Series and Road Series calendar until rounds four and five take place at Thruxton in Hampshire on 13th/14th June.
Along with headline sponsors Michelin and Protyre, the Clio Cup Series is additionally supported by Ferodo and Safety Devices with further support for the Road Series from Monster Sport Europe.
Provisional 2015 Michelin Clio Cup Race Series Points (after Rd3):
1st Luke Herbert, 92pts; 2nd Paul Streather, 70pts; 3rd Sam Randon, 69pts; 4th Brett Lidsey, 66pts; 5th Andy Jordan, 64pts; 6th Ben Davis, 60pts
Provisional 2015 Michelin Clio Cup Road Series Points (after Rd3):
1st Luke Pinder, 102pts; 2nd Jake Honour, 84pts; 3rd Nic Harrison, 72pts; 4th Matt Fincham, 67pts; 5th Sarah Franklin, 56pts; 6th Tyler Lidsey, 52pts